Private Jet Charter – We are Sundt Air
Behind one of the industry's top private jet services, you find a family-owned Norwegian company.  This is the secret behind Sundt Air's success.
Among Sundt Air's customers you find some of the most successful companies and individuals in Europe. With over 20 years in business aviation, Sundt Air stands out as the choice among those who require the absolute premium when it comes to personalized and tailor-made transport. If you need to acquire a VIP-aircraft, are considering buying your own business jet, or just would like a truly special experience in a private jet – Sundt Air makes it happen.  
Sundt Air private jet charter – when the sky is not the limit
It was back in 1999 that the shipowner and prominent businessman Petter Sundt acquired Nor Aviation – a company originating in 1989, when Norsk Luftambulanse (NLA) began fixed wing air ambulance operations. The famous investor grew a passion for life in the clouds and made it his mission to further develop the company's unique knowledge and values. Building from air ambulance operations in the early days, the company has for the last 20 years focused more and more on long term contracts with governments, private individuals and corporations, according to Sundt Airs Accountable Manager Geir Jensen –  at all times with the Sundt family at the helm. – Petter Sundt, and later his children Helene and Christian, have developed the company into what we are today. Both Sundt Air and the whole Sundt Group are a family-business with common values, he explains.  
Sundt Air's private jet services
Operator - Management
Maintenance
Special Mission
Charter
All you need regarding operating a business jet
Sundt Air's services can be divided into four main business areas.  As a certified operator, the main area of business is management of aircraft – that is : everything pertaining to the operation of private aircraft. Sundt Air is operating its own aircraft, ranging from mid-size jets to specialized aircraft for pollution control. In addition to this, they offer management services to other aircraft owners.  To operate a private jet, a dedicated and certified organization must be in place, you must have approved facilities and there are strict regulations and requirements of continuous follow-up on all areas, which can be demanding to set up around a single aircraft. At Sundt air, everything is arranged for you as an aircraft owner. – We make using private planes easy and transparent for the customer. In these sorts of agreements, we organize everything from crew and catering, to flight permits, fuel and maintenance. All agreements are tailor-made after the specific customers need and wishes, Jensen explains.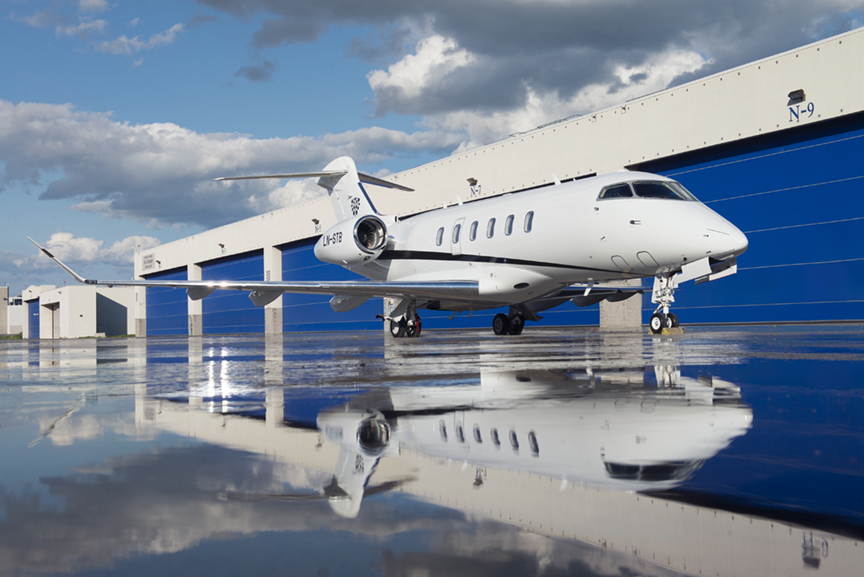 Maintenance, modifications and special mission operations
Sundt Air also has an in-house maintenance department, which takes on both planned, or scheduled maintenance, as well as ad-hoc based tasks, and that on just about any aircraft. The maintenance team at Sundt Air also has extensive experience regarding modifications on aircraft.  In fact, the company has been the first worldwide to do several types of modifications, according to Jensen. – some of the modifications have been done on our own aircraft for use in special mission operations, another of our business areas.  In this area we utilize specialized equipment and systems from our sister company in the Sundt Group, Norwegian Special Mission, for maritime surveillance and pollution control missions, he says. This creates a unique position for Sundt Air, enabling the company to deliver turn-key solutions for customers, whether they prefer to modify one of their existing aircraft, or need a complete-cycle solution where the aircraft is first acquired, modified and later operated by Sundt Air.
Private jet charter – travel comfortably and flexibly with a private plane around the world
The last important area of business for Sundt Air is Executive Charter, which involves renting out own or external aircrafts for exclusive tailor-made trips around the world. In addition to having the advantage of extensive knowledge and experience in this area, the focus and most important success criteria for Sundt Air, are discrete, efficient and flexible customer service.  Every detail is thoughtfully planned, and every challenge has been carefully considered. These are trips where Sundt Airs crew, mechanics and consultants work together, sharing their knowledge to create the very best experience for the specific client. Often, Jensen finds that the knowledge, experience and mere volume that derives from being an operator, makes Sundt Air better suited to design and plan the perfect experience for customers. -It is usually not only the price that matter. The benefit of tailor-made solutions, based on the particular customer's needs and preferences, give us an advantage over many others, who only pass on the lowest price quotes from different aviation companies.
Smaller and more flexible – but with the muscles of a big corporation
Size is not a goal in itself, according to Accountable manger Geir Jensen , in fact, the compact organization is one of the secrets behind Sundt Air's success. -Some of our strength lies in fact that we are not the biggest player out there. That makes us adapt to the customer, not the other way around. We do not make use of ready-to-order programs for our services, instead we tailor-make all solutions to each individual customer. As an aircraft owner, you do not disappear in the crowd, instead you get personalized solutions to fit your needs. Despite the compact and flexible company structure Sundt Air still has access to the same service, management and financial resources as that of a large corporation, thanks to the  Sundt Group. -The Sundt group of aviation companies comprises Sundt Air, Sundt Air Executive Handling, Sundt Air Management, Norwegian Special Mission, Pegasus Helicopter and Aviation Engineering. The group allows us to work close together and create synergies that benefit the customer, Jensen explains. The sky is not the limit –this is the telltale motto of Sundt Air.  Whatever it is that you set out to overcome – it's highly likely that the seventh heaven is within reach for you as a Sundt Air customer.