Airborne Surveillance
Over Norway's chilly waters, Sundt Air's King Air 350ER patrols for oil pollution, looking for the telltale sheen that reveals a leak from bulk carriers and offshore platforms. Operating under the direction of the Coast Guard, the King Air's crew also handles other critical assignments such as border patrol, fishery inspection, and search and rescue.
Typically flown five days a week, the King Air's missions are long, sometimes covering nearly 6,000 square miles over a 10-hour day.
To accomplish its specialized missions, Sundt Air works in tandem with Norwegian Special Mission (NSM), the experts who design, develop and support flight inspection and airborne surveillance systems. The two Sundt Group companies are conveniently co-located at Oslo Airport.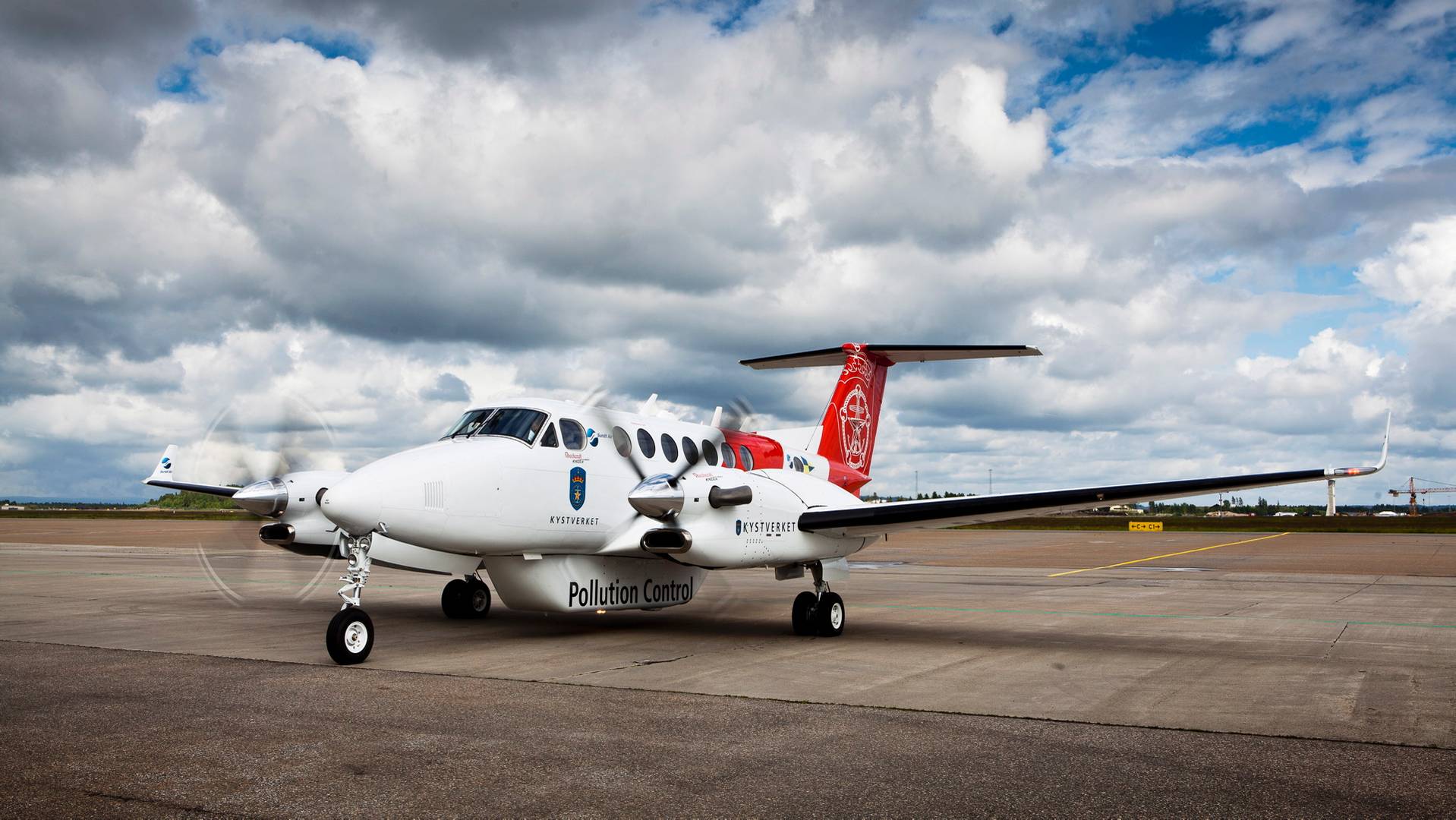 Experienced in Airborne surveillance
Sundt Air has performed airborne surveillance of the Norwegian cost and territorial waters since 2010, and was in 2016 awarded a similar contract by Defense Command Denmark, for maritime surveillance and pollution control of Danish territorial waters.

To carry out these duties we have two Beech King Airs  equipped with highly specialized equipment required to perform the duties called for.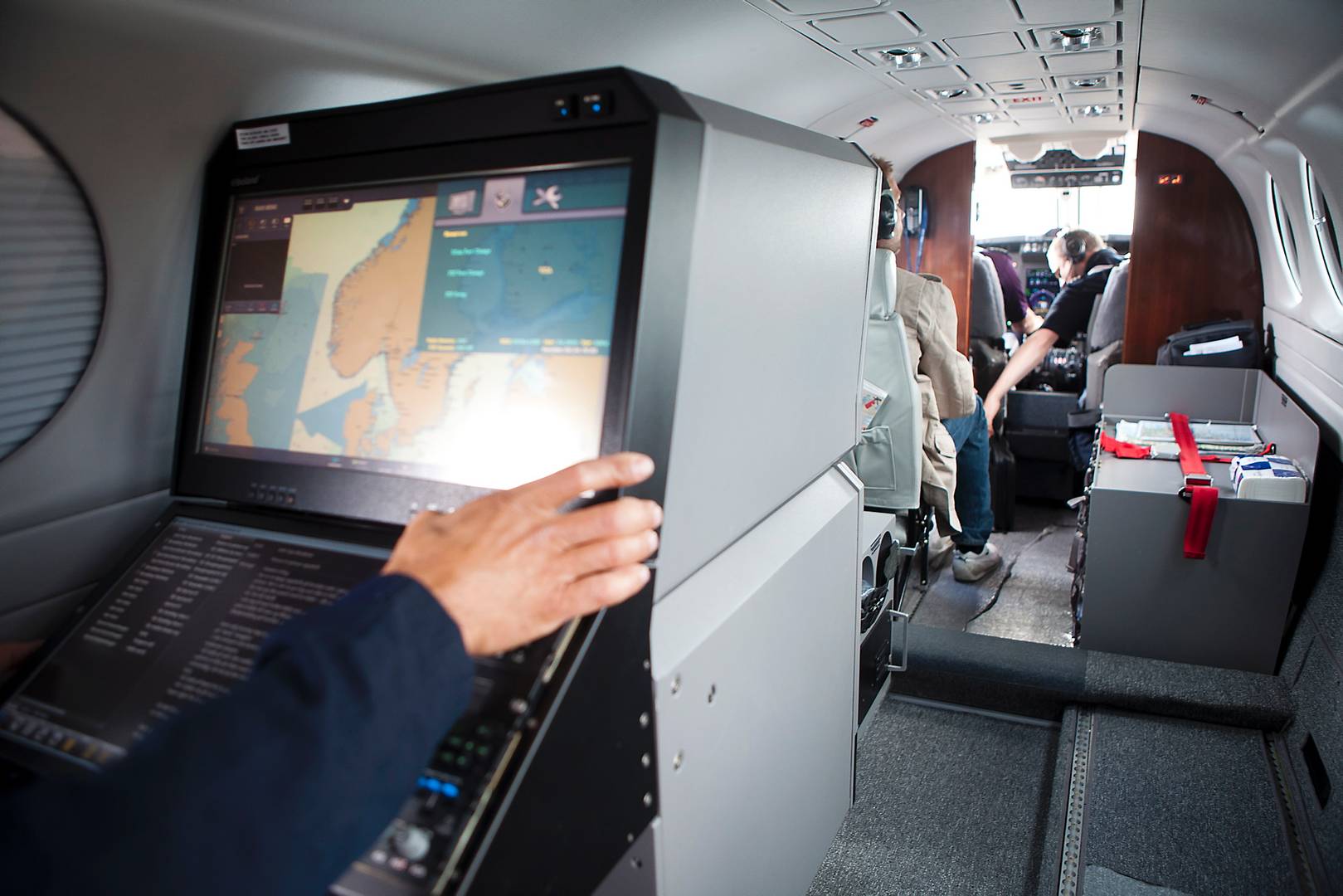 Equipped with High-Tech sensors and communication system
For one of  it's current patrols, Sundt Air has equipped a King Air 350ER with NSM's SeaHunter 8000  Airborne Surveillance System, helping the crew detect and document pollution and illegal fishing as well as assist in search and rescue operations.
With the specialized equipment the crew can: 
Capture video and still images
Map areas of pollution
See, identify and track vessels
Communicate and relay data to authorities
Examine water pollution
Deploy buoys
Sundt Air can deliver :
Total airborne surveillance service with our aircraft and crew
Sea Hunter 8000 for installation in your existing aircraft of any type.
Fully equipped aircraft for your own operation with Sea Hunter 8000 – Airborne Surveillance System
SLAR
360° RADAR
FLIR
AIS Transponder
Real-time data link
HD video
FMS interaction
Cockpit real-time video on MFD
Why we focus on airborne surveillance
Airborne surveillance, or more specific maritime surveillance, is a critical tool for monitoring and protecting our oceans. This type of surveillance involves the use of aircraft to patrol and monitor ocean areas, providing real-time information on maritime traffic, pollution, and potential threats to maritime security.
Airborne surveillance is commonly used by government agencies such as coast guards and navies to monitor and control their territorial waters. In addition, aircraft surveillance is utilized by governments and environmental organizations to detect illegal fishing and forms of maritime pollution.
The aircraft used for surveillance typically include fixed-wing aircraft and helicopters equipped with specialized sensors and equipment such as radar, cameras, and other surveillance systems. These aircraft are often deployed on long-duration missions, covering vast areas of the ocean and providing real-time information to operators on the ground.
Overall, airborne surveillance is an essential tool for protecting the environment, ensuring maritime safety and security, and supporting and controlling economic activities such as shipping and fishing.